Background to the Commentaries on Financial Audits
Financial reporting is fundamental to the accountability relationship
What accountability is and why it is important
The federal government as a whole as well as individual organizations must provide elected officials and the public with information about their decisions and actions to show how they spent taxpayer dollars to deliver programs and services. This is called the "accountability relationship."
Accountability is achieved when the government and organizations are open and transparent about how they spend taxpayer dollars. Transparency is achieved when relevant information is presented in a manner that makes it easy to understand how the government and organizations are spending taxpayer dollars.
Accountability and good governance go hand in hand. Examining the performance of government officials is a way to determine whether they are working to deliver programs effectively and economically. Good governance therefore builds public confidence and trust in government.
Oversight of public sector finances
Parliamentarians exercise oversight throughout the fiscal year—from the time they approve the government's budget to the time they receive the Public Accounts of Canada and the annual reports of other federal organizations.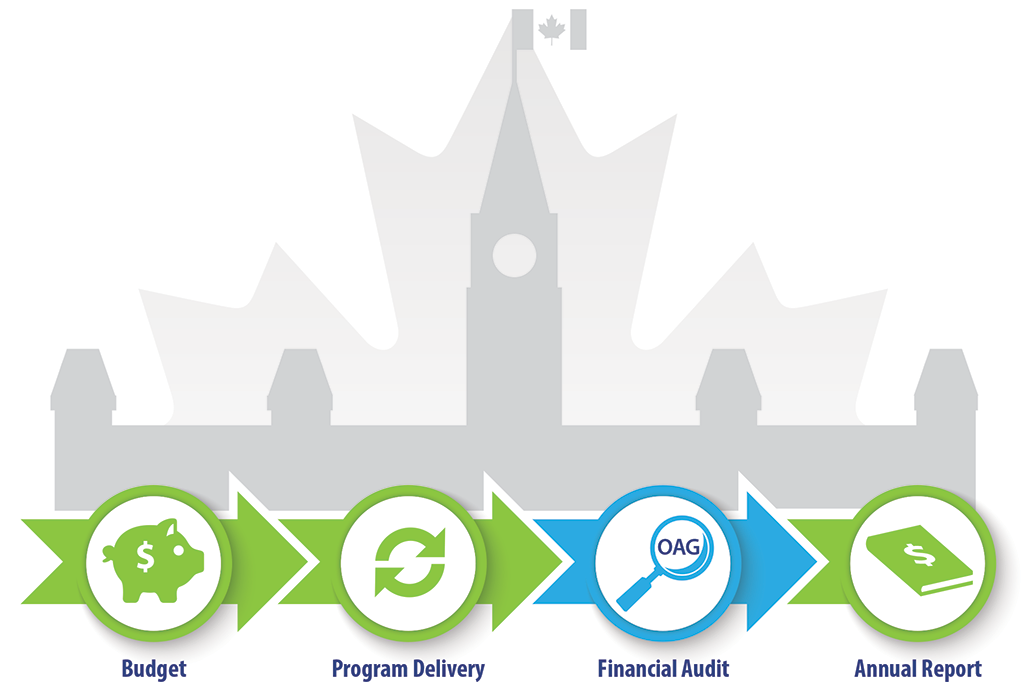 Text version

The public, represented by a maple leaf, and elected officials, represented by the Centre Block of Parliament, oversee the 4 steps of the spending cycle:

Budget
Program Delivery
Financial Audit
Annual Report
Although lots of financial information is publicly disclosed throughout the financial reporting cycle, it can be difficult to find or hard to understand.
Supporting accountability through reporting
Financial reports are used to provide accountability. These documents are important because they explain to elected officials and the public how tax dollars have been spent and how much taxpayers can expect to pay to fund future programs and services.
An annual report is essentially a financial report card that government and other organizations typically produce as their primary accountability document to provide information on their financial situation and performance for a given fiscal year.
Text version

An annual report comprises 4 elements:

Budget
Financial statements
Financial statements discussion and analysis
Other information
The main elements of a federal organization's annual report are the financial statements and the financial statements discussion and analysis (FSDA).
The FSDA is a narrative that explains the numbers presented in the financial statements and any significant differences from the budget, and it provides insights about future financial prospects.
Public attention often focuses on a government's annual financial performance against its budget. However, this focus provides only partial insight into the overall financial health of the government or organization. It is important to consider not just the numbers, but the full breadth of the critical information that is provided in an annual report.
Financial statements must be credible
To successfully support the accountability relationship, financial statements must be credible. In other words, readers must have confidence that the financial statements are prepared consistently over time and without undue bias, using numbers that are accurate.
To achieve credibility, government officials who prepare financial statements use objective standards. Auditors then use the same standards to assess whether the financial statements are reasonably accurate. These standards, known as accounting standards, are established by independent standard-setting bodies.
Many government organizations and the federal government as a whole use the Public Sector Accounting Standards, issued by the Public Sector Accounting Board, to prepare their financial statements.
The International Financial Reporting Standards, which are issued by the International Accounting Standards Board, are another common set of standards. They are used by those Crown corporations whose operations are more commercial in nature, such as Canada Post, Export Development Canada, and the Canadian Broadcasting Corporation.
Accounting standards are broad principles rather than prescriptive detailed guidance. The purpose of their uniform application is to create consistency over time and between governments and organizations. Consistency over time is important to reach meaningful conclusions about historical trends, and to better understand the financial health of a government or an individual organization—either at a point in time or over a longer period.
The OAG plays a critical role in supporting accountability and transparency
The value of financial statement audits
Audits of financial statements are important for several reasons:
They contribute to the credibility of the information presented by the government and individual organizations by providing an independent opinion on whether the numbers are free of significant errors. This is important to build Canadians' confidence in the information released by their government.
They strengthen oversight by monitoring and reporting on the financial health of the government and individual organizations, and by assessing compliance with laws, regulations, and standards.
They enhance transparency by providing information and insights that may not be explicit or included in the financial statements as prepared by the government and individual organizations. They also provide information about important issues considered in conducting the audits.
They support the continuous improvement of government financial management controls by providing recommendations to the government and individual organizations. The auditor's ongoing interaction with management throughout the year, and especially while audits are underway, supports timely improvements.
All these elements come together to support the accountability relationship between the government and its individual organizations and elected officials and taxpayers.
Appendix—Federal organizations for which the Office of the Auditor General of Canada is mandated to perform audits
Government
Crown corporations
Pensions
Agents of Parliament
Other